At the end of 2020, Glodom Language Solutions (Glodom) successfully completed the ISO17100:2015 translation services certification. The award of this certificate provides a convincing proof of Glodom's compliance with the world's highest translation standard in terms of translators, technology and service quality, thus ensuring excellent translation services and solutions for customers.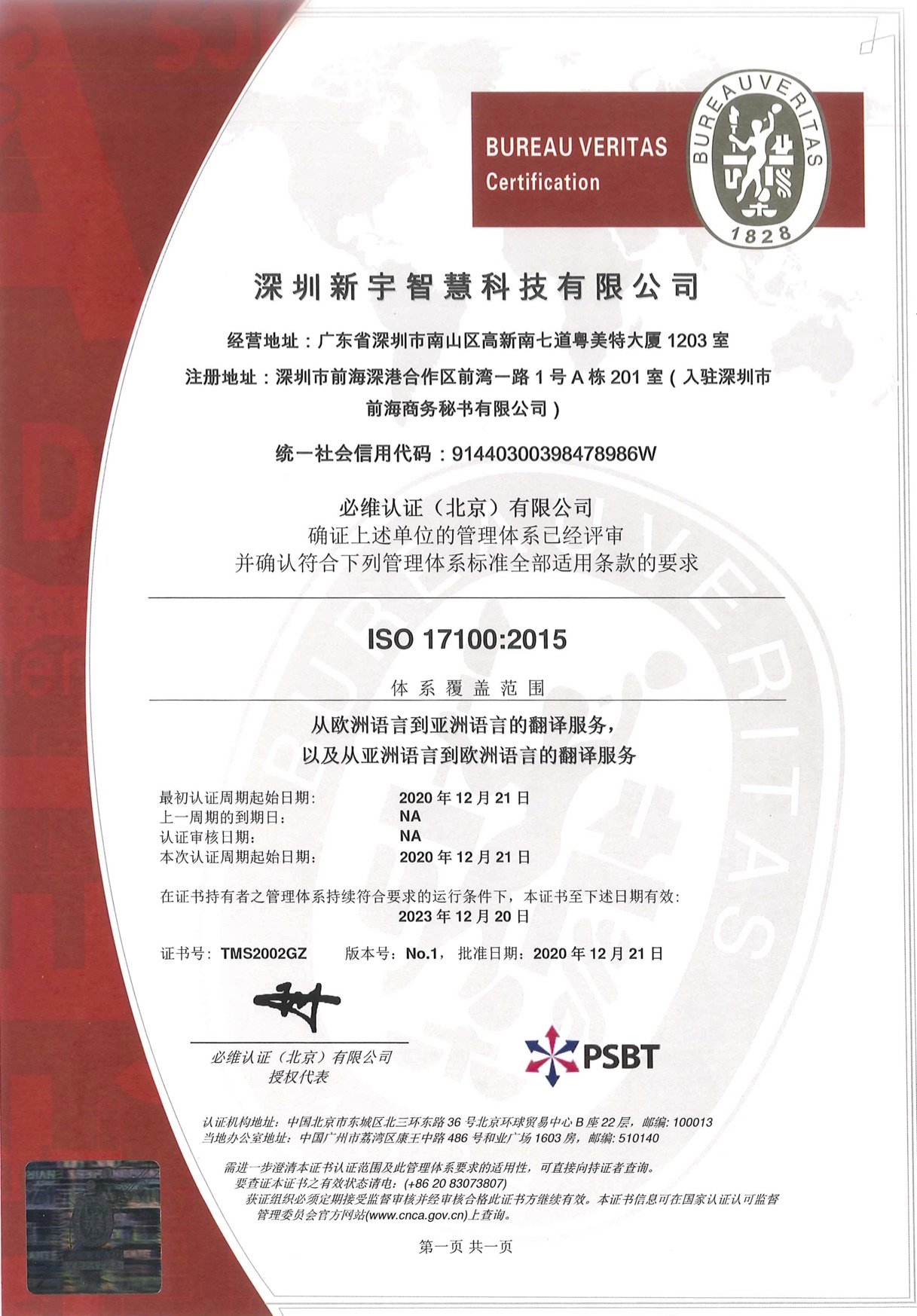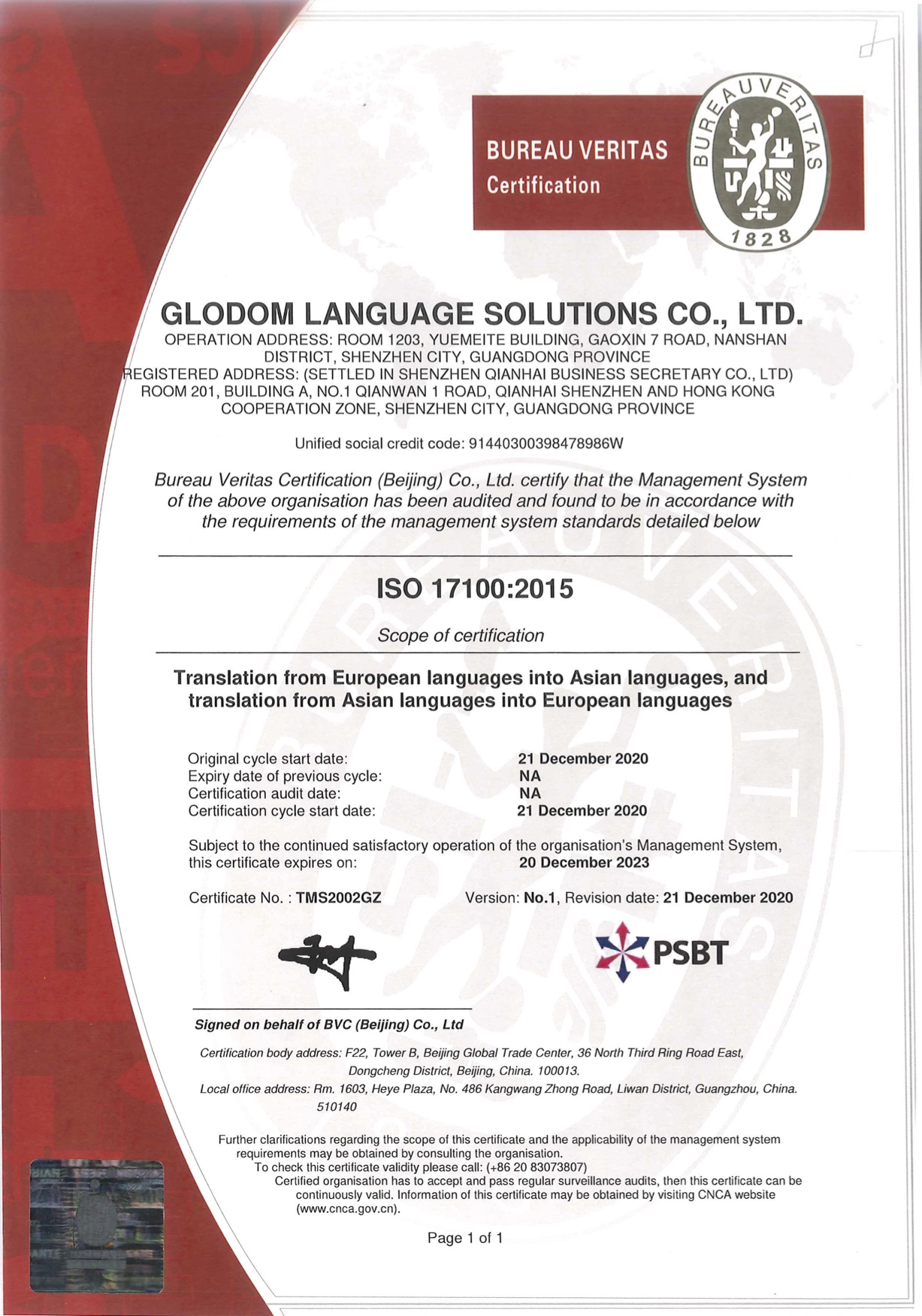 About ISO17100: 2015 Certification
1. What is ISO17100?
ISO17100 was jointly set up by the International Organization for Standardization Technical Committee ISO/TC37, terminology and other language resource subcommittee SC5, translation, interpretation and related technical organizations. It derived from the European language service standard EN15038 released in 2006, and has been revised and improved in accordance with the highest requirements and international standards. ISO17100 establishes and regulates the standards of translators, technology and service quality of translation companies, aiming to ensure the delivery of highest translation service quality for customers.
2. What translation service processes does ISO17100 regulate?
ISO17100 specifies and regulates all translation processes that affect translation quality, and regulates these processes before, during and after translation. Pre-translation processes mainly refer to sales-related work, including customer inquiry and preliminary processing of translation projects. Processes during translation mainly refer to translation-related tasks, including translation, inspection, edit, review, proofreading, final review and submission. Post-translation processes include feedback and finishing work.
3. What resources does ISO17100 regulate?
►Human resources
Human resources include translators, editors, reviewers, proofreaders and project managers. Language service providers must ensure that employees have the appropriate capabilities and qualifications to complete translation tasks. For example, translators need to have the following capabilities:
•Translation - the ability to understand the translation, correct errors and make the target language meet the requirements of the content provider;
•Understanding the linguistics and text in the source language and target language - fully understand the source language and render fluent translations;
•Searching, obtaining, and processing information - efficiently obtain and digest specific knowledge, and skilled at using search tools;
•Cultural background comprehension - translations need to fully consider the differences in ethics and values caused by the different cultural backgrounds of the source language and the target language;
•Technical ability - know how to solve technical problems in the translation process, such as installing tools and IT systems;
•Expression - translate the source language with the appropriate style and wording.
The translator must have any of the following qualifications with written proof:
•Graduate Certificate in Translation from a full-time college or university;
•Graduate Certificate in non-translation specialties from a full-time college or university, and more than two years of experience as a full-time translator;
•Five years of experience as a full-time translator.
► Technical resources
Language service providers should have basic technical support in place to ensure that:
•its translation tools can process, save, retrieve, archive or delete data and files safely and confidentially;
•its communication tools, including necessary software and hardware, are perfectly functional;
•it can acquire extensive information channels and media resources;
•its translation tools, translation management systems, term management systems and other tools related to translation language assets operate well.
4. What does ISO17100 certification mean?
ISO17100 specifies requirements for language service providers from people to technology and processes. It not only ensures that translation companies have qualified and professional translation service capabilities, and provides customers with the highest standards of translation services, but also protects the rights and interests of customers and helps customers select reliable translation companies efficiently.